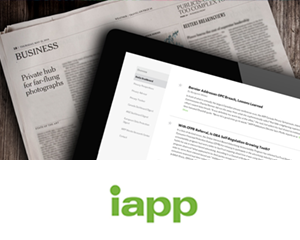 IAPP Web con recap: Maximizing big data while complying with the GDPR
Anonos has released a recap of its recent IAPP web conference on ways companies can use big data while still complying with the General Data Protection Regulation. The recap covers the presentations from Anonos CEO Gary LaFever, Hintze Law Partner and former Microsoft Chief Privacy Counsel and Assistant General Counsel Mike Hintze, CIPM, CIPP/C, CIPP/E, CIPP/G, CIPP/US, CIPT, FIP, and CNIL Director of Technology and Innovation Gwendal Le Grand as they discuss technical solutions to assist with GDPR compliance, such as de-identification and privacy by design. The rundown also features the questions asked by the audience, and the responses delivered from LaFever, Hintze and Le Grand on topics such as persuading technologists to help comply with the GDPR, and suggestions for developing a GDPR budget for 2017.
This article originally appeared in IAPP. All trademarks are the property of their respective owners. All rights reserved by the respective owners.
CLICK TO VIEW CURRENT NEWS