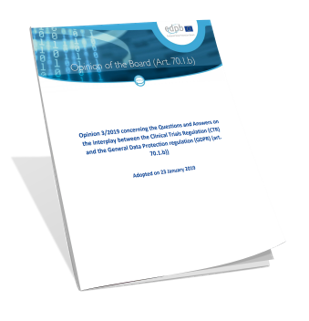 What changed? The recent European Data Protection Board (EDPB) Opinion 3/2019 stipulates the opinion of the Board that "informed consent" for life science purposes does not satisfy requirements for consent as a legal basis under the GDPR. This opinion took many people in the industry by surprise and means that participants engaged in EU life science research are at immediate risk of interrupted business operations, reputational damage, enforcement action, liability, and penalties unless they support an alternate legal basis.
Is there a solution? Anonos patented BigPrivacy technology enables life science firms to do more with data in compliance with EU data protection requirements in a way that is not supported by competitive technologies.
Benefits of GDPR Compliant Pseudonymisation for Life Science Research:
1) Increasing the risk of liability and uncertainty surrounding the use of data collected in the EU for clinical trials/medical device studies under recent controversial guidance from the European Data Protection Authority; and
2) Reducing data collected in the US to be used for EU and global studies by complying with more stringent privacy obligations.
3) Enabling the ability to analyze, share and combine global clinical trial/medical device data in compliance with evolving global data protection laws;
The benefits of properly pseudonymised data using Anonos BigPrivacy technology are highlighted in multiple GDPR Articles, specifically in:
Article 6(4) as a safeguard to help ensure the compatibility of new data processing;
Article 25 as a technical and organizational measure to help enforce data minimisation principles and compliance with data protection by design and data protection by default obligations;
Article 32 as an encouraged security measure; and
Article 89(1) as a safeguard in connection with processing for archiving purposes in the public interest; scientific or historical research purposes; or statistical purposes; moreover, the benefits of pseudonymisation under this Article 89(1) also provide greater flexibility under:
Article 5(1)(b) with regard to purpose limitation;
Article 5(1)(e) with regard to storage limitation; and
Article 9(2)(j) with regard to overcoming the general prohibition on processing Article 9(1) special categories of personal data.
In addition, properly pseudonymized data is recognized in WP29 Opinion 06/2014 as playing "a role with regard to the evaluation of the potential impact of the processing on the data subject...tipping the balance in favour of the controller" to help support Legitimate Interest processing as a legal basis under Article GDPR 6(1)(f).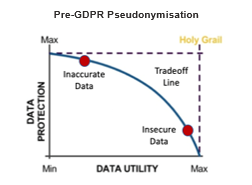 Pre-GDPR approaches to pseudonymisation require a trade-off between maximizing data protection and data utility resulting in either less accurate data or less secure data. This is because of the use of static (persistent) tokens to replace direct identifiers only so: (i) pseudonymised records can be combined with additional information to enable re-identification; and (ii) indirect identifiers can be combined or enriched with additional information leading to unauthorized disclosure – this is often referred to as unauthorized re-identification via inference attacks or the "Mosaic Effect."
With GDPR compliant pseudonymisation using Anonos BigPrivacy, the conflict between data protection and utility is resolved by transforming data dynamically using patented algorithms to contain only pseudonymised versions of required data elements (direct and indirect identifiers) authorized for each use or analysis. Different users receive use-case specific pseudonyms all originating from the source data, significantly enhancing downstream data utility, even on privacy-enhanced data.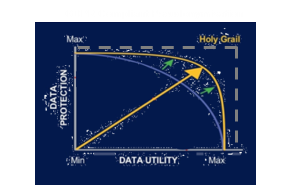 Pre-GDPR Pseudonymisation versus GDPR Compliant Pseudonymisation
How GDPR compliant pseudonymisation requirements have evolved from prior standards: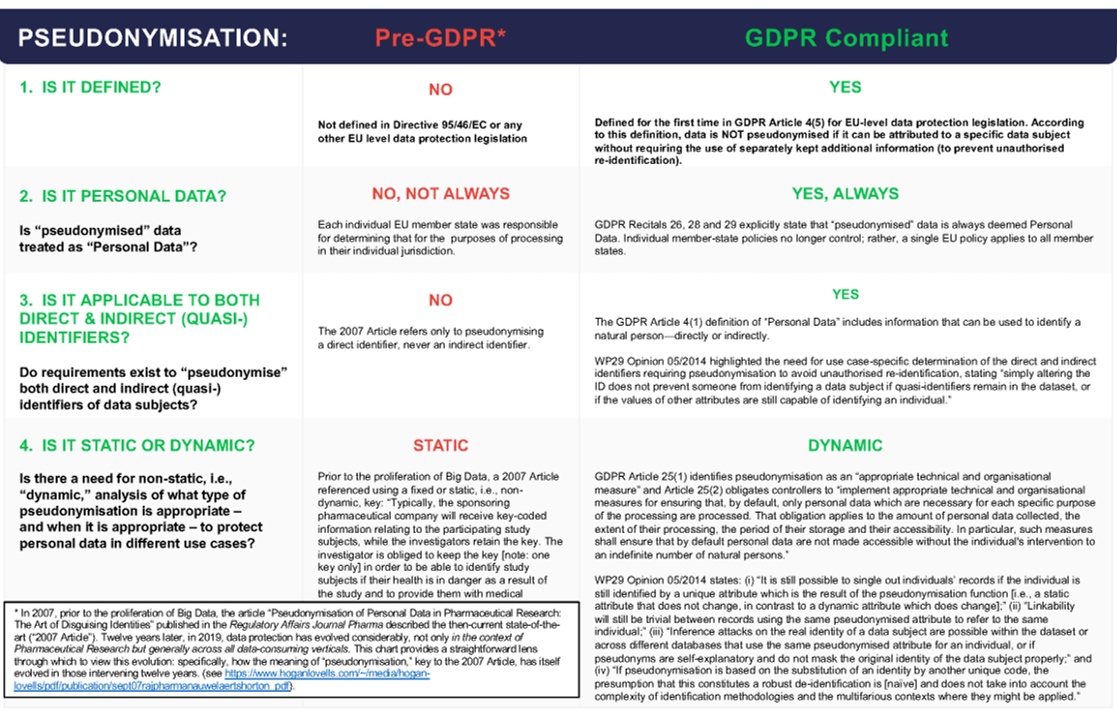 In addition, the TED Talk on Big Data Needs BigPrivacy (6 min) highlights how Anonos BigPrivacy technology maximises lawful collection, use, combination, sharing and processing of personal health data without compromising data value under domestic and international data protection regimes.