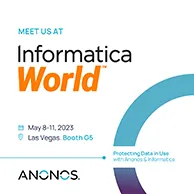 Conference
Discover Trusted Data Sharing with Variant Twins 2023
Anonos is a gold sponsor at Informatica World. Meet our expert team and discover the Anonos solution that seamlessly integrates with Informatica Intelligent Data Management Cloud™ for trusted data sharing. Embed privacy controls directly into your data, technologically enforce policies, and enrich privacy metadata for CLAIRE with Variant Twins®.
May 8-11, 2023
Venetian Hotel, Las Vegas, U.S.
Learn More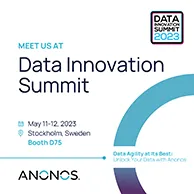 Summit
Data Innovation Summit
Anonos is an educator sponsor at the Data Innovation Summit 2023 in Stockholm. Discover how our data protection software, Data Embassy, can help your business unlock sensitive data for data sharing and advanced analytics operations while maintaining balance between utility and privacy.
May 11-12, 2023
Kistamässan, Stockholm, Sweden
Learn More