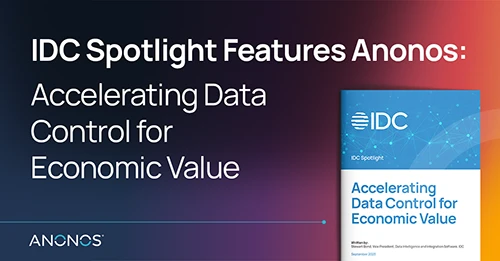 IDC Features Anonos in its Spotlight Report on Accelerating Data Control for Economic Value
NEW YORK CITY and BERLIN – September 27, 2023 – The International Data Corporation (IDC), a global provider of market intelligence, advisory services, and events for the information technology market, has dedicated its latest Spotlight report to Anonos, data privacy and security innovator, for its leadership in performant privacy-based data controls.

Authored by Stewart Bond, Vice President of Data Intelligence and Integration Software at IDC, the report emphasizes the importance of intelligent enterprises and underscores the key role of performant privacy-based controls in leveraging data in these entities. Findings from the report suggest that by focusing on privacy mitigated economic value, enterprises can achieve a 3-4x improvement in their intelligence capabilities.
The foundation of enterprise intelligence is data, and a common thread that runs through enterprise intelligence capabilities is effective, timely use and sharing of data", says Stewart Bond.
However, while blending internal and external data offers monetization benefits, evolving privacy regulations often prevent enterprises from fully exploiting their data's potential.

Traditional data control methods, such as encryption, tokenization, and masking, are becoming outdated in modern data environments as they protect data at rest and in transit, but not while data is being processed.

Performant privacy-based controls, which maintain the original data's speed and accuracy while enhancing privacy, are crucial. These controls ensure data protection and utility, facilitating faster decision-making, business value enhancement, and potential new revenue streams from data.

According to Bond, Anonos stands out with its unique approach, leveraging performant privacy-based controls. Anonos' flagship offering, the Data Embassy software, provides businesses with centralized control over decentralized processing, making it possible to access protected data sets instantly. It also offers "Variant Twins" - use-case specific digital twins with embedded controls that cater to diverse requirements like generating synthetic data for testing, redacting personal information, de-identifying data for model production use, and more.
Performant privacy-based controls can help organizations overcome privacy hurdles, share and utilize more data, and improve the economic value realized from data. Anonos' implementation is differentiating, and to the extent that it can address the challenges described in this paper, the company has a significant opportunity for success", concludes Bond.
Access the full IDC Spotlight report
here
.
About IDC
International Data Corporation (IDC) is the premier global provider of market intelligence, advisory services, and events for the information technology, telecommunications, and consumer technology markets. With more than 1,300 analysts worldwide, IDC offers global, regional, and local expertise on technology, IT benchmarking and sourcing, and industry opportunities and trends in over 110 countries. IDC's analysis and insight helps IT professionals, business executives, and the investment community to make fact-based technology decisions and to achieve their key business objectives. Founded in 1964, IDC is a wholly owned subsidiary of International Data Group (
IDG
), the world's leading tech media, data, and marketing services company. To learn more about IDC, please visit
www.idc.com
. Follow IDC on Twitter at
@IDC
and
LinkedIn
. Subscribe to the
IDC Blog
for industry news and insights.
About Anonos
Anonos® is a data privacy and security innovator, providing enterprise software that mitigates risk and maximizes data utility and value. Its globally patented, award-winning Data Embassy® platform uses a unique combination of state-of-the-art data privacy tools to transform sensitive assets into Variant Twins®: non-identifiable, up to 100% accurate variations of source data engineered for specific use cases to support the desired business outcomes. Because precise technical controls are embedded within them and continuously enforced, Variant Twins can travel anywhere – across departments, outside the enterprise, and around the globe. With Data Embassy, organizations have full-spectrum, universal data protection to increase cloud utilization, improve cybersecurity, and power lawful analytics, artificial intelligence, machine learning, and data sharing initiatives for faster speed to insights. Anonos. Data without the drama. Learn more by visiting
anonos.com
or follow us on
LinkedIn
.