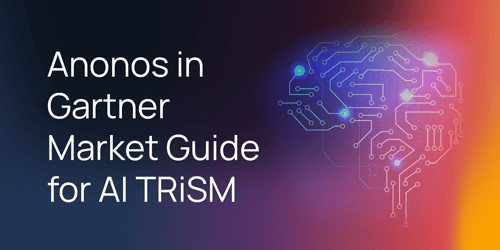 Anonos Named in 2023 Gartner® Market Guide for Artificial Intelligence Trust, Risk and Security Management
Anonos recognized as a Representative Privacy Vendor in the AI TRiSM Market for its Data Embassy software with Variant Twins and synthetic data capabilities
NEW YORK CITY and BRUSSELS – February 7, 2023 – Anonos
, a global innovator in data privacy, security and enablement, has been recognized in the 2023 Gartner
"Market Guide for Artificial Intelligence (AI) Trust, Risk and Security Management (TRiSM)."
The company is listed as a Representative Privacy Vendor in the AI TRiSM market for the Variant Twins and synthetic data capabilities of its
Data Embassy software
. Anonos' Variant Twins technology addresses privacy risks while enabling AI requirements for flexibility, modularity and use-case-specific processing.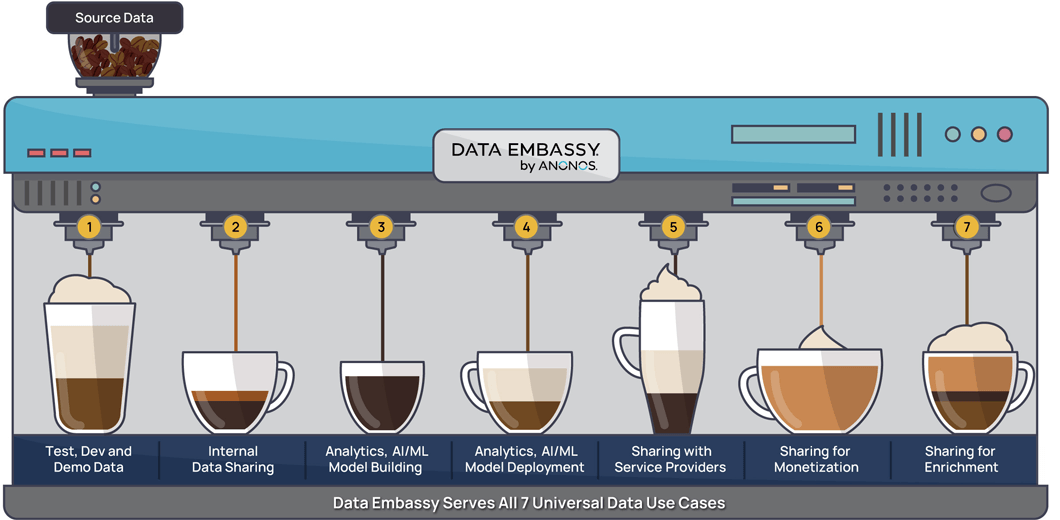 Caption: Like a specialty barista system that makes different drinks from the same coffee beans, Data Embassy transforms sensitive data into unidentifiable variations of digital twins, called Variant Twins, to support any use case for value creation.
Organizations are embracing AI for the efficiencies it creates, from the ability to deliver personalized customer experiences to the role it plays in accelerating the analysis of large volumes of data for insights to support strategic decision-making. This Gartner Market Guide indicates that
"by 2026, organizations that operationalize AI transparency, trust and security will see their AI models achieve a 50% improvement in terms of adoption, business goals and user acceptance."
But
"AI projects that appear feasible often falter at the first step when access to data — especially personal data — is prohibited or discouraged in either training and/or production because of privacy risk and potential compliance concerns,"
according to this Market Guide. In fact, Gartner's 2021 AI in Organizations Survey revealed that
"two in five organizations had an AI privacy breach or security incident, and the broadening legislative landscape seeks to ensure such breaches are minimized,"
the Market Guide notes. Indeed,
"regulatory authorities are starting to publish guidance when personal data is used for AI, but they also point out the need to minimize identifiable data."
Anonos' Data Embassy uses a combination of state-of-the-art privacy-enhancing computation (PEC) techniques to transform source data into Variant Twins, new assets with built-in controls that limit the amount of identifying data to only what is required for each specific use case but with the same analytical value as the original data. The level of data protection is centrally customized and controlled, with collaboration among legal/privacy teams and data users, and it can be adjusted according to project requirements and applicable regulations, so Variant Twins can safely travel across departments or international borders. Data Embassy also can be used to generate privacy-preserving synthetic data, which is ideal to train AI and machine learning models.
Anonos was previously named by Gartner as a Cool Vendor in Privacy Management and recognized for Data Security as a Service in the 2022
"Gartner Hype Cycle™ for Data Security."
Statice GmbH, which Anonos acquired in Q4 2022, was named in the
Gartner 2022 "Emerging Tech: Top Use Cases for Tabular Synthetic Data"
and recognized in two 2022 Gartner Hype Cycle reports: Artificial Intelligence and Data Science and Machine Learning (ML).
We're excited to appear in additional Gartner market research and guidance, and we believe we are recognized for our full-spectrum accuracy and utility preserving data protection capabilities that include synthetic data for machine learning and AI model development, together with PEC techniques, like Statutory Pseudonymization, including controlled relinking, for data privacy and security in production," said Mark Little, Chief Data Strategist for Anonos. "AI adoption is only accelerating in enterprise digital transformation efforts, and we provide state-of-the-art technical controls that significantly reduce reidentification risks across AI and other common use cases for creating more value with data assets."
This Market Guide covers technologies specifically tailored to address privacy risk in AI usage. The Market Guide does not cover vendors that offer similar PETs in breadth but do not focus on AI use cases or the specialized requirements of AI TRiSM.


Gartner Disclaimer:

GARTNER is a registered trademark and service mark of Gartner and Hype Cycle are a registered trademark of Gartner, Inc. and/or its affiliates in the U.S. and internationally and are used herein with permission. All rights reserved.
Gartner does not endorse any vendor, product or service depicted in its research publications, and does not advise technology users to select only those vendors with the highest ratings or other designation. Gartner research publications consist of the opinions of Gartner's research organization and should not be constructed as statements of fact. Gartner disclaims all warranties, expressed or implied, with respect to this research, including any warranties of merchantability or fitness for a particular purpose.

Resources:

Gartner Market Guide for AI Trust, Risk and Security Management , Avivah Litan, Jeremy D'Hoinne, Bart Willemsen, Sumit Agarwal, 16 January 2023;
Gartner, Cool Vendors in Privacy Management, Bart Willemsen, Deborah Kish, 27 April 2018;
Gartner Emerging Tech: Top Use Cases for Tabular Synthetic Data, Benjamin Jury, Alys Woodward, Vibha Chitkara, 22 September 2022;
Gartner, Hype Cycle for Data Security, Brian Lowans, 4th August 2022;
Gartner, Hype Cycle for Artificial Intelligence, Afraz Jaffri, Farhan Choudhary. Synthetic data analysis by: Anthony Mullen, Alexander Linden, Arun Chandrasekaran, 2022;
Gartner, Hype Cycle Data Science & Machine Learning, Farhan Choudhary, Peter Krensky. Synthetic data analysis by: Anthony Mullen, Alexander Linden, Arun Chandrasekaran, 2022.
About Anonos
Anonos® is a data privacy and security innovator, providing enterprise software that mitigates risk and maximizes data utility and value. Its globally patented, award-winning Data Embassy® platform uses a unique combination of state-of-the-art data privacy tools to transform sensitive assets into Variant Twins®: non-identifiable, 100% accurate variations of source data engineered for specific use cases to support the desired business outcomes. Because precise technical controls are embedded within them and continuously enforced, Variant Twins can travel anywhere – across departments, outside the enterprise and around the globe. With Data Embassy, organizations have full-spectrum, universal data protection to increase cloud utilization, improve cybersecurity, and power lawful analytics, artificial intelligence, machine learning and data sharing initiatives for faster speed to insights. Anonos. Data without the drama.TM Learn more by visiting
anonos.com
or follow us on
LinkedIn
.