Join LinkedIn Schrems II group
Establish a Defensible Position
Prior to Schrems II, the world was engaged in GDPR preparedness and wasn't focused on protecting data when in use. Under Schrems II it is clear that you must now be protected during use - during analytics, AI, and ML - to make it surveillance proof. The industry must now move beyond mere preparedness to ensure GDPR compliance by protecting data when in use.
Why Anonos is What You Need - Today!
1.
While everyone else is talking about Schrems II challenges,
Anonos provides solutions to the challenges
2.
Your Schrems II obligations to implement "surveillance proof" Supplemental Measures
exist TODAY
, unrelated to your obligation to transition to new SCCs
3.
The EDPB recommends the use of
GDPR Pseudonymisation as a TECHNICAL Supplementary Measure
to ensure protection against surveillance
Defensible Position Established by Effective Supplementary Measures
Anonos Data Embassy software enforces established EU data protection principles to provide a defensible position DAY ONE. There is no silver bullet, but our eight years of dedicated R&D produce the State-of-the-Art in compliant data use protection.

Anonos invested tens of thousands of hours to achieve with Data Embassy software what many believed was impossible: balancing data protection and data utility to deliver lawful borderless data use.

With Anonos Data Embassy software, you can establish a defensible position quickly to keep your data flows protected.
Guaranteed
State-of-the-Art
Software
We guarantee that Anonos Data Embassy software achieves the highest level of Schrems II and GDPR compliance while at the same time, enabling the highest value and utility of EU personal data.

Our state-of-the-art software guarantee means that if an EU Data Protection Authority or court of competent jurisdiction determines that our software, when used properly, does not satisfy Schrems II requirements, Anonos will refund your Quick Start license fees.

It is possible to enable business continuity and ongoing lawful data-driven innovation while respecting and enforcing the fundamental rights of data subjects.
Establish a Legally Defensible Position to Avoid Schrems II Immediate Termination of Processing
ALERT: Portuguese DPA Provided 12 Hours Notice to Terminate Processing by Agency Relying on SCCs
Data Supply Chain Business Continuity Solution
Terminated access to the data necessary for your business operations is more immediately impactful than the possibility of penalties, sanctions, data breaches or third party claims.
Avoid the risk of terminated access to critical data supply chains.
Many of your partners and clients may be unwilling to take the risk of adverse impacts to their operations from halted data processing by supervisory authorities under the Schrems II ruling. Through connections with them, you may also be impacted (or cut out of the chain!).
Anonos software provides an Immediately Defensible Position
to ensure ongoing business operations and lawful use of data without interruption.
The Anonos Quick Start program allows you to set up Data Embassy software to create an Immediately Defensible Position. It is proof that a data controller/processor has started the process required to understand and use state-of-the-art technology to comply with their data privacy protection obligations, including those that result from Schrems II.
Anonos software maximises the value of data by enforcing lawful scalable controls, to create more opportunities for sustainable data use by protecting data at rest, in transit, and in use, both now and in the future.
Contact us to learn more:
By clicking submit, you agree to our
Privacy Policy
Top Schrems II Risks to Business Continuity & Operations
1
Termination of Data Access by Supply Chain Partners:
Termination of access to critical data supply chains by partners unwilling to take the risk of negative impacts to their operations from halted data processing by supervisory authorities
Proof of Schrems II Immediately Defensible Position for technical controls for ongoing lawful use of SCCs necessary to ensure access to data for ingoing business operations
2
Auditors
Without an Immediately Defensible Position, you must set aside adequate reserves to cover the negative impacts of terminated data flows due to Schrems II noncompliance
3
Enforcement
Has Begun
Terminated access to data: MailChimp (Germany) and and National Statistics Institute (Portugal); Multi-million Euro penalties: Vodafone (Spain)
4
Non-Governmental Organisation (NGO) Activities
Possibility of second round of NOYB "Opening Pandora's Box" investigations?
Potential for new Privacy International investigations?
Based on our experience helping clients solve threats to their data supply chains, we developed the following infographic highlighting how to put technical supplementary measures in place to prevent Schrems II data supply chain disruptions by providing your partners with the assurances they need.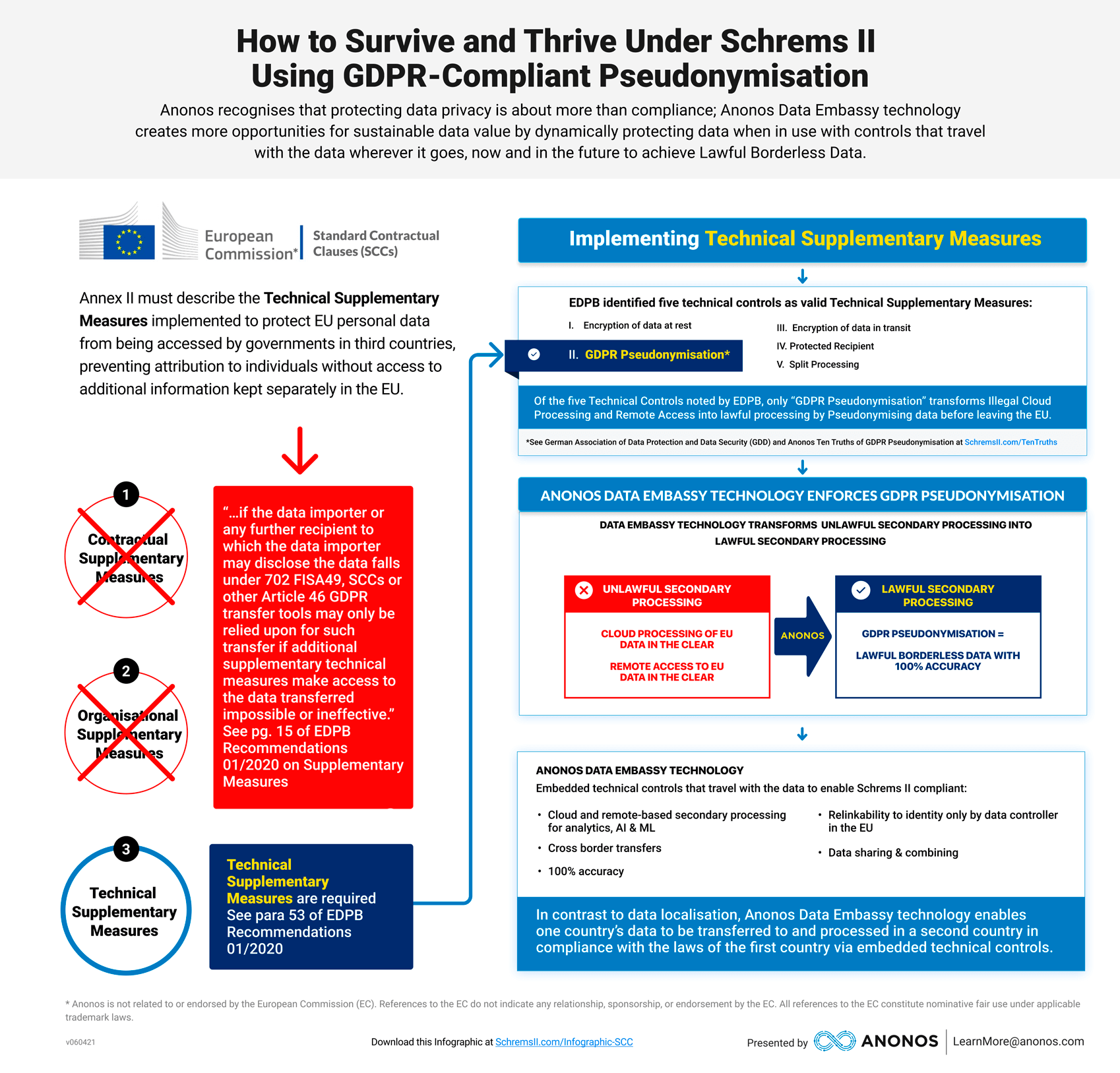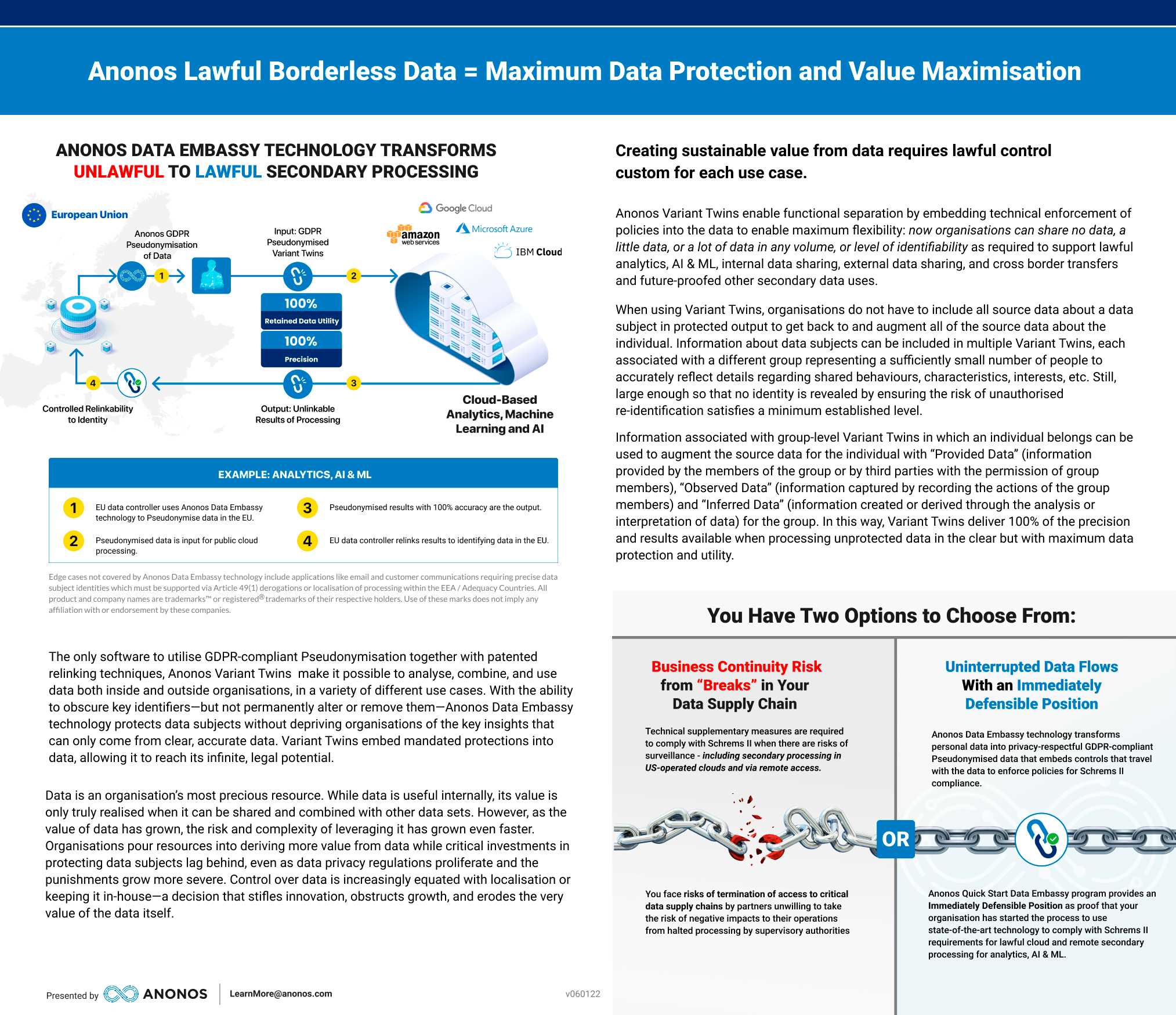 Download Infographic
You Can Deliver a Legally Defensible Position to Your Organisation in two Steps:
1
Anonos-Enabled Technical Supplementary Measures
GDPR-compliant Pseudonymisation
PLUS
making cloud processing, sharing and remote access of EU data lawful
2
Anonos Schrems II Legal Solutions Guidebook with templates:
a.
Responses to Regulators, NGOs, auditors and Stockholders
b.
Supplementary Measure Checklist
c.
Legal and Regulatory Benefits of Anonos Technology
d.
Requested Guarantees from non-EEA / equivalency country vendors
Use Cases
Transforming Unlawful Processing Into Lawful Processing
Download The Schrems II Legal Solutions Guidebook that was presented on a
Workshop with over 2000
GCs, DPOs, CPOs and external legal counsel.
A checklist and practical steps are provided so that privacy and legal advisors have a roadmap for moving forward.
DOWNLOAD HERE