Establish a Defensible Position
Prior to Schrems II, the world was engaged in GDPR preparedness, and wasn't focused on GDPR data in use. However, these best practices should already be in place. Now, asking questions like "Where is your data?" or "Where is the impact assessment?" are no longer enough. All of a sudden, with Schrems II the entire industry must now move beyond mere preparedness to ensure GDPR compliance when data is in use.
These
2
common use cases are now
unlawful under Schrems II
Cloud Data Processing
1
Transfer to non-EEA cloud services providers or other data processors which require access to data in the clear
(EDPB Use Case 6)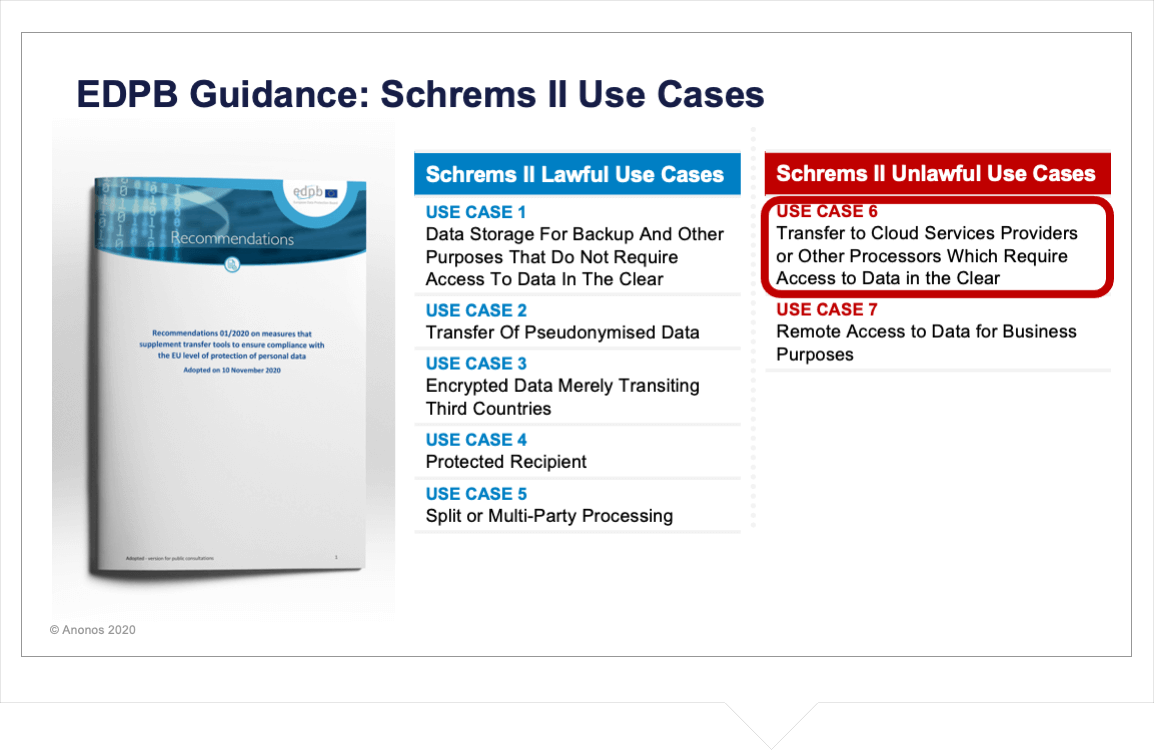 Shared Data for Business Purposes
2
Making personal data available to entities in a third country to be used for shared business purposes
(EDPB Use Case 7)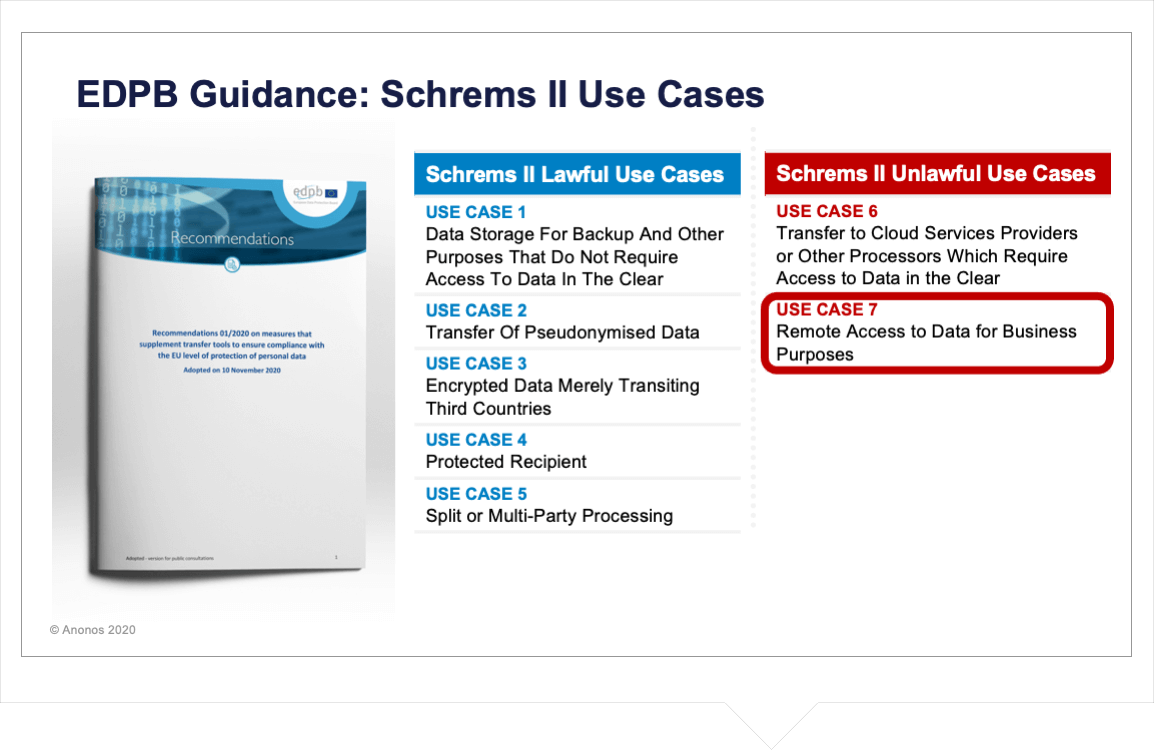 As per EDPB Guidance, these use cases are now unlawful post-Schrems II
Anonos
makes these
2
use cases lawful.
Transform your data to enable
Lawful Processing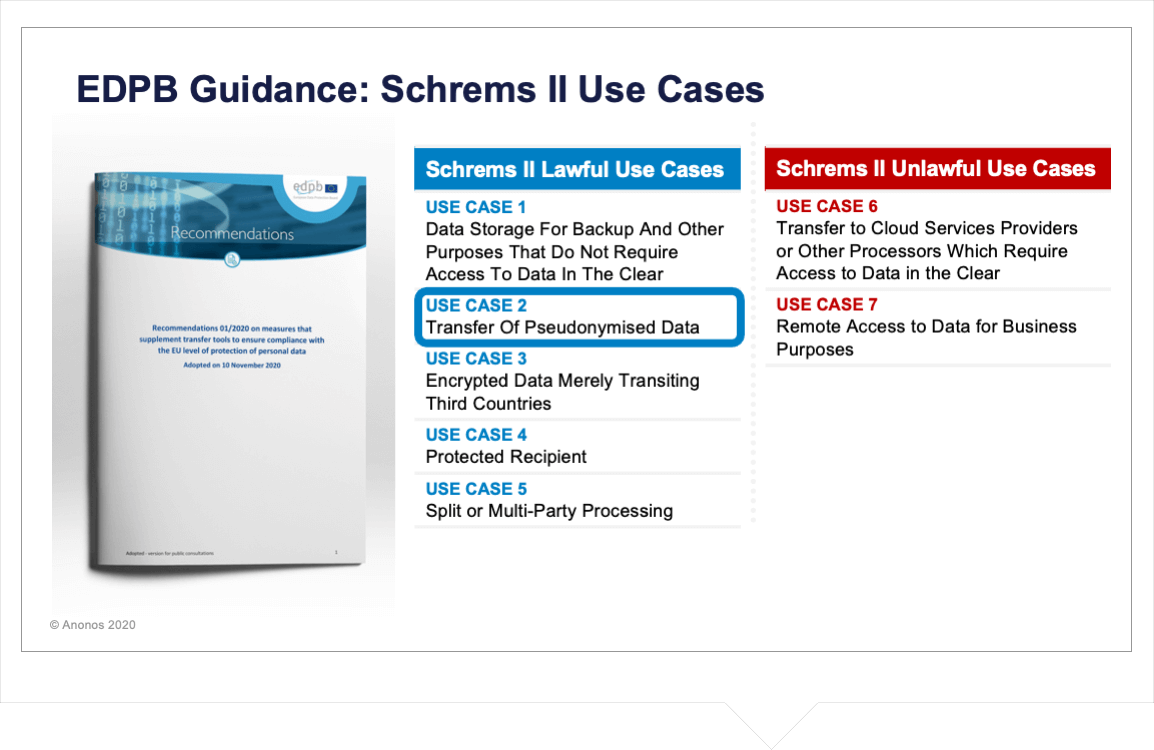 of organisations* now realize they need a new Defensible Business Position
*Participants in a Schrems II webinar on 29/10/20 with 1800+ executives from 1700+ companies across 60+ countries.
Use Cases
Transforming Unlawful Processing Into Lawful Processing
Defensible Position Established by Effective Supplementary Measures
Anonos technology enables Data Embassy principles that enforce established EU data protection principles to provide a defensible position DAY ONE. There is no silver bullet, but our eight years of dedicated R&D produce the State-of-the-Art in compliant data use protection.

Anonos invested tens of thousands of hours to achieve what many believed was impossible: balancing data protection and data utility to deliver lawful borderless data use.

With Anonos, you can establish a defensible position post-Schrems II quickly and effortlessly. Establish effective supplementary measures to keep your data flows protected.
Guaranteed State-of-the-Art Data Embassy Software
We guarantee that our software achieves the highest level of Schrems II and GDPR compliance while at the same time, enabling the highest value and utility of EU personal data.

Our state-of-the-art Data Embassy software guarantee means that if an EU Data Protection Authority or court of competent jurisdiction determines that our software, when used properly, does not satisfy Schrems II requirements, Anonos will refund your Quick Start license fees.

We are tenacious in this commitment so that you can future-proof your data protection. It is possible to enable business continuity and ongoing lawful data-driven innovation while respecting and enforcing the fundamental rights of data subjects.
Download The Schrems II Legal Solutions Guidebook that was presented on a
Workshop with over 2000
GCs, DPOs, CPOs and external legal counsel.
A checklist and practical steps are provided so that privacy and legal advisors have a roadmap for moving forward.
DOWNLOAD HERE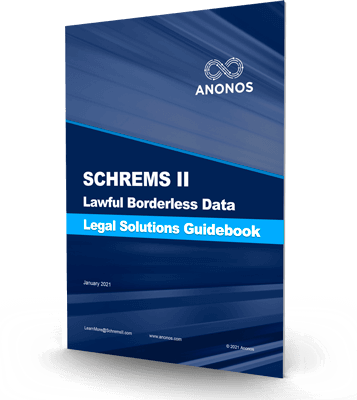 New technology controls must protect data
when in use.
To learn more about Anonos' Schrems II solution contact us below.
By clicking submit, you agree to our
Privacy Policy
*Schrems II refers to the ruling by the Court of Justice of the European Union in Case C-311/18 - Data Protection Commissioner v Facebook Ireland Ltd and Maximillian Schrems, commonly referred to publicly as "Schrems II." Use of "Schrems II" in no way indicates any relationship or affiliation with, or endorsement by, Max Schrems or by the Non-Governmental Organisation, None of Your Business (NOYB), or any parties directly or indirectly associated with Max Schrems or NOYB.