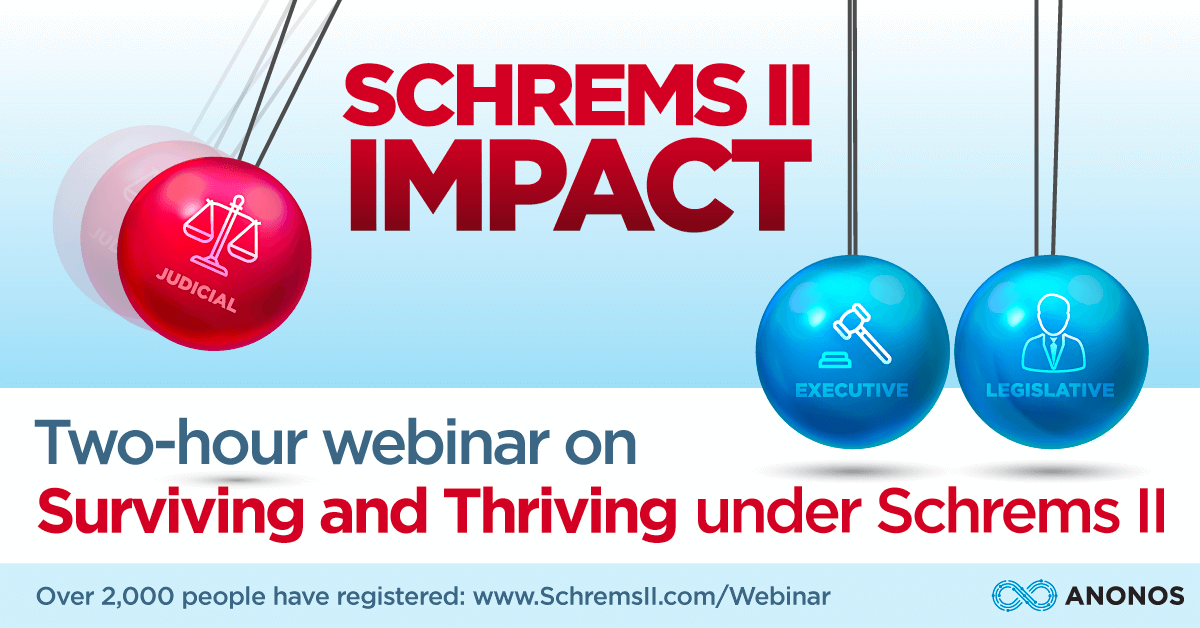 Two-hour webinar on Surviving and Thriving under Schrems II
Don't miss our Belgian Colleague, Magali Feys', article on why the new EU-US Trade and Technology Council (TTC) must abide by Schrems II, highlighting the reach, impact, and influence of the Schrems II ruling by the Court of Justice of the European Union.
As noted in Magali's article, countries and companies on both sides of the Atlantic must comply with Schrems II requirements - which have no grace period for enforceability - until the Judicial, Executive and Legislative branches of both the EU and the US governments reconcile fundamental conflicts between how the US and the EU recognise and enforce privacy rights.
Both the European Commission and the EDPB have recommended GDPR-compliant Pseudonymisation (this is different from encryption and requires heightened security capabilities from what was required prior to the GDPR - see www.pseudonymisation.com) as a means of complying with Schrems II requirements to protect data during processing when there is a risk of surveillance.
While protecting data during processing using GDPR-compliant Pseudonymisation sometimes requires businesses to change how they process data, it increases opportunities to use, share and combine data improving ESG sustainability and resulting in a positive return on investment (ROI) for companies adopting GDPR-compliant Pseudonymisation.
Webinar on Surviving and Thriving Under Schrems II
The impact of Schrems II on the new EU-US Trade and Technology Council (TTC) and the capabilities of GDPR Pseudonymisation will be among many topics addressed during a two-hour webinar Anonos is running on 22 June covering how to survive and thrive under Schrems II, for which over 2,000 people have registered. For more information on the webinar, visit www.SchremsII.com/Webinar.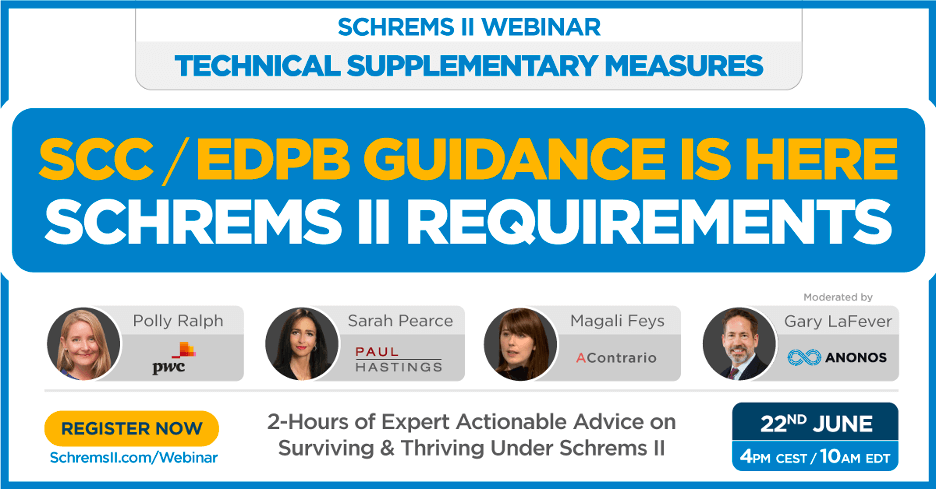 For more information on how to continue lawful processing of EU data in compliance with Schrems II requirements using technical supplementary measures like GDPR Pseudonymisation, join the Schrems II Linkedin Group with over 8,000 members.
This article originally appeared in LinkedIn. All trademarks are the property of their respective owners. All rights reserved by the respective owners.
CLICK TO VIEW CURRENT NEWS