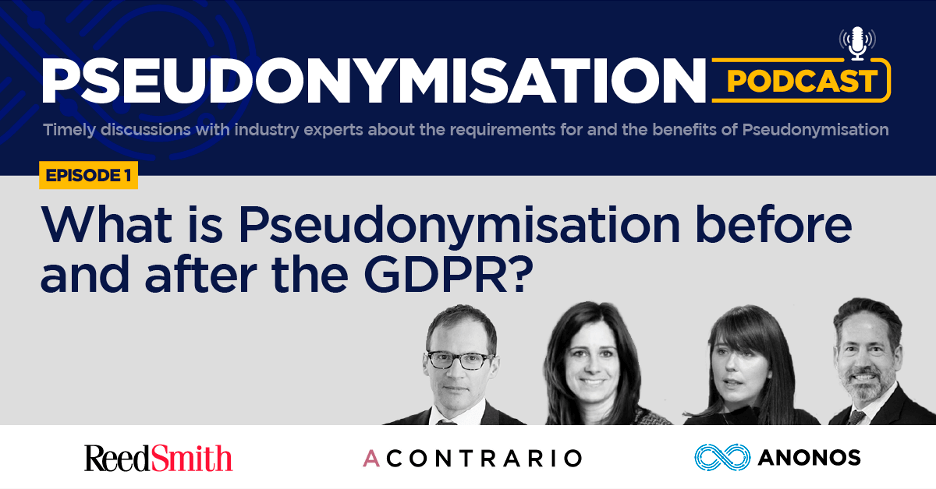 Announcing the Launch of the Pseudonymisation Podcast
Anonos' curated 9,300+ member LinkedIn Schrems II & Pseudonymisation group, together with the Pseudonymisation.com website, announce the launch of the inaugural episode of the new Pseudonymisation Podcast.
The Pseudonymisation Podcast will feature regular discussions and interviews with industry experts to "pull back the curtain" and reveal how GDPR Pseudonymisation helps make data legal for international transfer, cloud processing, and remote access, following the Schrems II invalidation of the Privacy Shield treaty. While also helping to ensure lawful, ethical, and sustainable global analytics, AI, and machine learning under data privacy and protection laws, rules, and regulations.
The Pseudonymisation Podcast will facilitate discussions on Pseudonymisation and create a greater awareness of both the requirements and benefits of GDPR-compliant Pseudonymisation.
Pseudonymisation is not a silver bullet, a golden shield, or a magic wand. But it has a different meaning and impact now than it had in the past.
Episode 1: What is Pseudonymisation before and after the GDPR?
In this 20-minute inaugural episode, we discuss Pseudonymisation - what is it, what it isn't, what it was, and what could it be.
Featuring Andy Splittgerber (Germany) and Cynthia O'Donoghue (UK) from Reed Smith, Magali Feys (Belgium) from AContrario, and Gary LaFever from Anonos.
Listen to the podcast here
Highlights from Episode 1 of The Pseudonymisation Podcast include:
Cynthia O'Donoghue shares insights from an ICO seminar she attended before the implementation of GDPR, where the view was that Pseudonymisation had always been treated as a security, like a Privacy Enhancing Technique (PET), and that it should still be treated that way.
Magali Feys shares that the outcome of GDPR-compliant Pseudonymisation has to meet a higher standard than anonymisation, under Recital 26 of the GDPR. And that we're at the beginning of the mountain, but not yet over the top.
Andy Splittgerber shares that Pseudonymisation will be key to many future processing activities such as data transfers, international data transfers, AI, and big data and that the challenge will be to educate everyone on what it is and how to apply it.
Gary LaFever discusses that Pseudonymisation, as defined as a statutory term, requires an understanding of both legal and data science techniques, and the full definition under the GDPR is often missed because it's almost more of a data science issue than a legal issue.
Memorable quotes from Episode 1 include:
Pseudonymisation is key to much future processing – be it international data transfer, AI, or Big Data analytics. It is something that should always be considered and often implemented.
- Andy Splittgerber, ReedSmith
Pseudonymisation is NOT failed anonymisation and requires even greater protection of data since there is no "reasonableness" qualifier when assessing the risk of unauthorised reidentification.
- Magali Feys, AContrario
Technology has outpaced pre-GDPR concepts of Pseudonymisation – the removal or masking of direct identifiers is old fashioned and unsophisticated and fails to protect data as now required for statutory Pseudonymisation.
- Cynthia O'Donoghue, ReedSmith
The Google Analytics decision by the Austrian DPA highlights that the replacement of direct identifiers with static recurring tokens is not GDPR Pseudonymisation because Google can easily relink the static identifiers to identities.
- Gary LaFever, Anonos
Listen to the podcast here.
We welcome your feedback, and if you have any comments or would like to join the discussion, please let us know in the comments below.
This article originally appeared in LinkedIn. All trademarks are the property of their respective owners. All rights reserved by the respective owners.
CLICK TO VIEW CURRENT NEWS