What's top of mind for CDOs in the financial industry?
Recently, C-level data executives from the financial sector gathered at FIMA Europe 2022, where data and analytics innovation took center stage.

Following are six key data trends and highlights for financial industry data leaders.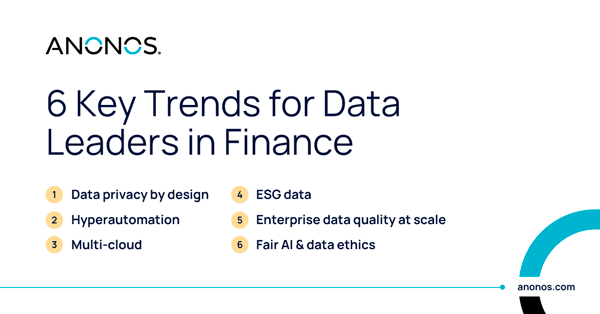 1. Data privacy by design, not an afterthought, is a business necessity.
87% of customers wouldn't do business with a company with inadequate security practices, reminds
McKinsey
.
The global privacy regulation landscape is highly fragmented, with more than 100 countries enacting privacy laws. The finance sector has
received more fines
under the EU General Data Protection Regulation than any other industry. The consequences of non-compliance include not only fines and settlements, but also business disruptions, productivity losses, and revenue losses.
To reassure their customers and provide better services, data leaders are investing in privacy-by-design by:
Leveraging privacy-enhancing technologies (PETs) to unlock sensitive data processing for long-term data analytics and sharing.
Going beyond simple data masking and building robust data privacy toolboxes to match individual use cases and data diversity.
Focusing on insights, not secrets. Trends and insights are often visible without access to sensitive data. Consider the big picture when making data-driven decisions.