DIGITAL TWIN TO VARIANT TWINS
Privacy-Respectful Data Assets Customised to Each Use Case
The flexibility of our approach enables a privacy engineer to create Variant Twins for different contexts, uses, and risks. Use case specific Variant Twins all originate from the source data, significantly enhancing downstream data fidelity, even on privacy-enhanced data.
The right-hand column shows a digital representation of the source data on John J. Jeffries. The Digital Twin includes direct identifiers like name and location, as well as indirect identifiers like date of birth, zip code, income and loan details. A privacy engineer designs Variant Twin A, "John", to reveal the minimum data necessary to support an authorised use of the source data, whilst protecting the identity of the data subject.

All records included and revealed in a Variant Twin must satisfy a specific k-anonymity threshold to ensure there are a minimum number of records in each cohort. John's Variant Twin B has a higher likelihood of meeting a k-anonymity requirement and being included in the final output.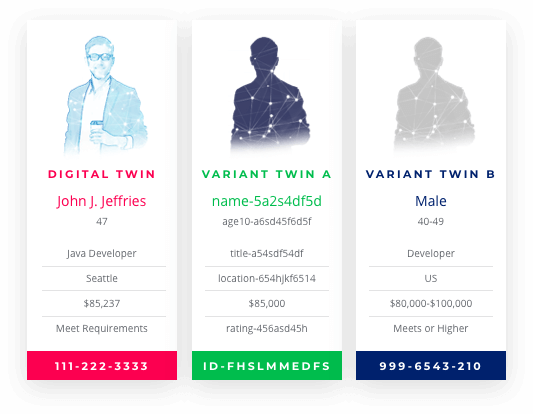 Anonos' Patented, Controlled Re-Linkable Dynamic De-Identifiers Significantly Advance Pseudonymisation
Traditionally, pseudonymisation policy has been one-dimensional. Deterministic pseudonymisation, where the same input value is always assigned to the same pseudonym, is applied to direct identifiers only. This static approach makes it useful as a localised security technique, but is vulnerable to linkage attacks, which prohibits combining datasets and practicing distributed analytics.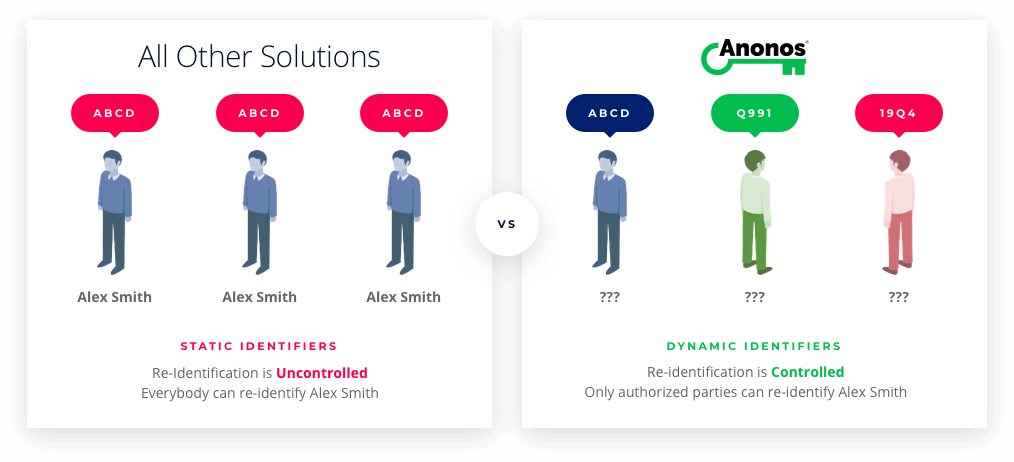 In the image to the above, Anonos' Patented Dynamism shows the same individual as different people across databases and tables. Dynamic de- identifiers, within and between datasets, defeat unauthorised re-identification - including linkage attacks and inference attacks. Because of this, organisations can feel confident the resistance to re-identification is robust and they can distribute data globally - ultimately repurposing personal data through self-service analytics and creating a data democracy.
the kicker
Achieve a Legal Basis to Repurpose Data whilst Ensuring 100% Accurate Insights
BigPrivacy embeds policies into the data to support GDPR-compliant Pseudonymisation and Data Protection by Design and Default to satisfy the balancing of interest test required for lawful Legitimate Interest processing. Most importantly, BigPrivacy can generate Variant Twins that deliver the same data value as clear-text source data, whilst providing GDPR-compliant privacy protection. The BigPrivacy engine unlocks new opportunities for business leaders, including: