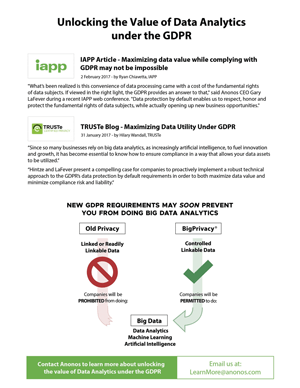 Managing Risk and GDPR Compliant Data Analytics
NEW YORK, Feb. 8, 2017 /PRNewswire/ -- A landmark webinar on managing risk and big data analytics under the EU General Data Privacy Regulation (GDPR), held in January in partnership with the International Association of Privacy Professionals (IAPP), is now available for replay, along with summary notes and the Q & A from the webinar. The materials can be found at anonos.com/gdpr on the website of Anonos, the sponsor of the webinar.
More than 600 privacy professionals from around the globe registered for the webinar, which featured Gwendal Le Grand, the Director of Technology and Innovation at La Commission Nationale de l'Informatique et des Libertés (CNIL), the independent French administrative regulatory body whose mission is to ensure that data privacy law is applied to the collection, storage, and use of personal data; Mike Hintze, former Microsoft Chief Privacy Counsel and now partner at Hintze Law; and Gary LaFever, former partner at Hogan Lovells international law firm and now CEO at Anonos, a company specializing in technology that enables compliance with the GDPR while unlocking the value of data.
The webinar included a discussion of how the GDPR, which is scheduled to go into effect in May 2018, shifts the primary burden of risk for inadequate data protection from individual data subjects to corporate data controllers and data processors. This risk-based approach represents a fundamental change in how data must be processed and requires new technical measures to support "data protection by default."
Former chief privacy counselor to Microsoft and now Hintze Law Partner, Mike Hintze, said, "While it seems that May 2018 is a long way out, it isn't given the types of things that need to be done to get ready for the GDPR. A lot of companies are just getting started, and others are trying to wrap their heads around what this all means, but companies need to start doing something. They need to start putting steps in place."
CNIL Director of Technology and Innovation, Gwendal Le Grand, stated, "One important thing is that the fines can be scary for companies because it goes up to 20 million Euros or 4% of annual turnover and it is the highest amount that counts. So for big companies we are talking about 4% of worldwide turnover."
Anonos CEO Gary LaFever said, "What's been realized is the convenience of data processing in the past came at the cost of the fundamental rights of data subjects. If viewed in the right light, the GDPR provides an answer to their rights but also presents challenges. Data protection by default enables companies to respect, honor and protect the fundamental rights of data subjects, while actually opening up new business opportunities."
Mr. LaFever also recently published an article on how the GDPR shifts risk from individuals to corporations. The article is available at anonos.com/articles
Summary notes and Q&A from the IAPP webinar are available at anonos.com/gdpr
The goal of Anonos is to provide timely, relevant information about big data innovation and, with regard to the GDPR, how to continue to use data analytics and artificial intelligence in a compliant manner. Click here to sign up for alerts anonos.com/alerts
This article originally appeared in PR Newswire. All trademarks are the property of their respective owners. All rights reserved by the respective owners.
CLICK TO VIEW CURRENT NEWS