IDC Report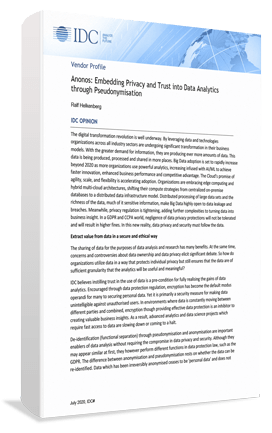 The IDC report - Anonos: Embedding Privacy and Trust into Data Analytics through Pseudonymisation highlights that:
Concerns over potential privacy violations and the prioritization of locking data down through security measures has mistakenly led many organizations to forego the benefits of data insight.
It need not be an either/or choice since dynamic pseudonymisation organizations can achieve both.
Anonos technology is poised to tackle the many new challenges of the digital transformation revolution, with state-of-the-art technology that pushes the boundaries of how we gain value from data.
In a globally connected world focused on data sharing, AI, ML and Big Data, Anonos Data Embassy software (previously known as BigPrivacy) enables a future in which both data protection and data value are maximised.
There is a way forward: Anonos is hailed in this IDC Report as "an innovator and technology leader," well-placed to assist with resolving the tension between organisations desiring both data privacy and data analytics.