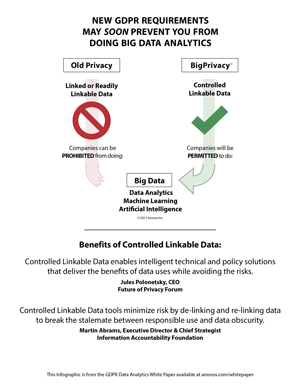 Data Privacy Experts Reveal how to Comply with the EU General Data Protection Regulation (GDPR)
NEW YORK, Jan. 24, 2017 /PRNewswire/ -- Anonos Inc. (Anonos), in partnership with the International Association of Privacy Professionals (IAPP), announces a timely webinar on the impact of the EU General Data Privacy Regulation (GDPR) on global data analytics and artificial intelligence (AI).
Since all major companies now rely on data analytics and AI, it is critical that they enable compliance in a way that allows their data assets to be fully utilized in compliance with international laws and regulations.
The webinar hosted by the IAPP will feature Gwendal Le Grand, the Director of Technology and Innovation at La Commission Nationale de l'Informatique et des Libertés (CNIL), the independent French administrative regulatory body whose mission is to ensure that data privacy law is applied to the collection, storage, and use of personal data; Mike Hintze, former Microsoft Chief Privacy Counsel and now partner at Hintze Law, and Gary LaFever, former partner at Hogan Lovells international law firm and now CEO at Anonos, a company specializing in technology that enables compliance with the GDPR while unlocking the value of data. The webinar is scheduled for January 31, at 8:30 – 9:30 am PT, 11:30 am – 12:30 pm ET, 16:30 – 17:30 GMT.
Nearly 500 privacy professionals around the world, including numerous thought leaders, have already registered for the IAPP webinar. It's an opportunity for them to hear about GDPR compliance and how companies can still utilize data analytics and artificial intelligence.
The ability to anonymize data sets of personal information opened up vast opportunities in the commercial sector in terms of targeted marketing and business insights. At the same time, rapidly evolving abilities of "big data" algorithms, combined with proliferating online databases, have made re-identification a looming threat for individuals.
These technological advancements helped precipitate the GDPR and other emerging data protection regimes. The challenge now is how to comply with GDPR and other data protection regime requirements while tapping into the increasingly necessary business value that big data can provide. While difficult, solutions are emerging to provide for both.
Topics to be discussed during the webinar include:
How to understand GDPR compliance obligations as a potential business enabler, rather than a disabler of business objectives.
How to achieve balance between proper data protection and responsible utilization of big data's powerful analytic abilities.
Effective technical tools available right now to help you navigate your regulatory requirements.
A specially prepared White Paper about the GDPR and compliance, which is authored by Mike Hintze and Gary LaFever, is also available and provides the premise of the webinar. To gain insight into the issues that will be discussed during the program, registrants are encouraged to download the white paper in advance at https://www.anonos.com/whitepaper
A recording, written summary and FAQs from the IAPP GDPR Data Analytics webinar will be made available to everyone who registers but cannot attend. Registration is available at https://www.anonos.com/gdpr-iapp-webinar
This article originally appeared in PR Newswire. All trademarks are the property of their respective owners. All rights reserved by the respective owners.
CLICK TO VIEW CURRENT NEWS