Blueprint for gdpr

(Updated - 2nd Edition)
Overview:
This 2nd Edition of the Anonos BigPrivacy GDPR Blueprint provides updated information and examples of "Data Safe Havens" which are explicitly recognized combinations of GDPR legal & technical safeguards that maximise Big Data value by leveraging GDPR compliant pseudonymisation:
GDPR Data Safe Havens
Legacy Consent Data Transformation - Avoid Deletion: SaveYourData®

Legitimate Interest Big Data Processing
Legal Secondary Processing of Big Data
Data Minimisation; Data Protection by Design and By Default in Support of Big Data
Expanded Big Data Use and Sharing Opportunities
Compliant Cloud Processing for Big Data
In the year since the publication of the 1st Edition of this BigPrivacy GDPR Blueprint in January 2018, Anonos has received recognition as a Gartner Cool Vendor for innovative technology, Gartner, IDC and Forrester have all highlighted BigPrivacy in numerous reports and blogs, and Anonos software has been certified under the EuroPrivacy certification scheme as complying with European GDPR requirements. The certification by EuroPrivacy (www.europrivacy.org), completed using the "Privacy Flag" certification scheme developed under a research project co-funded by the European Commission and Switzerland, highlights that Anonos SaveYourData software meets GDPR requirements for compliant pseudonymisation. Most recently, IDC has published a special report entitled Anonos' SaveYourData – a EuroPrivacy Certified Solution – "Deep Freezes" Enterprises' Existing Personal Data Sets as They Plan Analytics Strategies available at www.anonos.com/DoNotDeleteYourData.
BigPrivacy technology harmonises two objectives which have previously been in opposition: it delivers data value through data use, sharing and combination while simultaneously enabling GDPR-compliant data protection.
Copies of the Blueprint have been sent to all members of the Article 29 Working Party/European Data Protection Board, the office of the European Data Protection Supervisor (EDPS), and the European Commission Directorate‑General for Communications Networks, Content and Technology (DG CONNECT).
In person and web-based workshops have been performed with these regulatory/legislative organizations about the status of BigPrivacy as the state-of-the-art in Data Protection by Design and by Default technology, and are ongoing.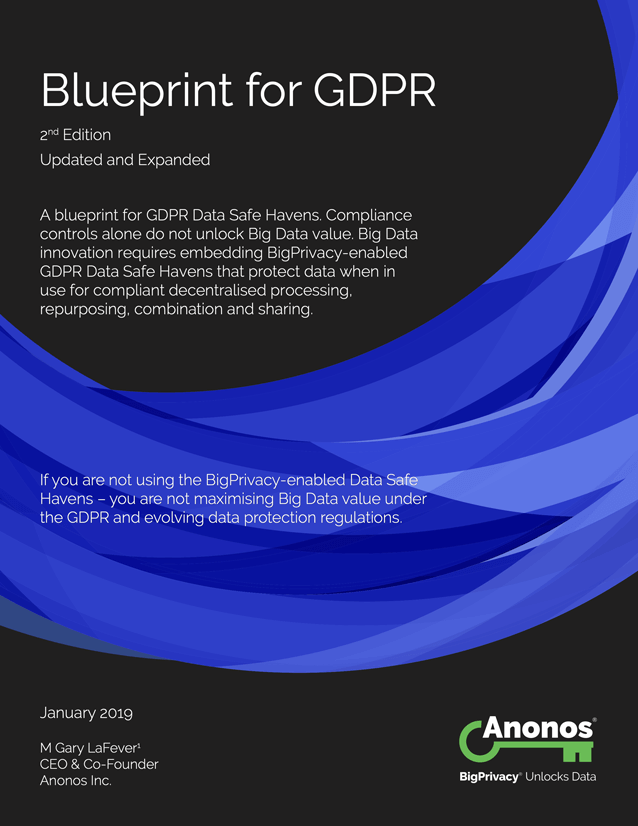 Download Now